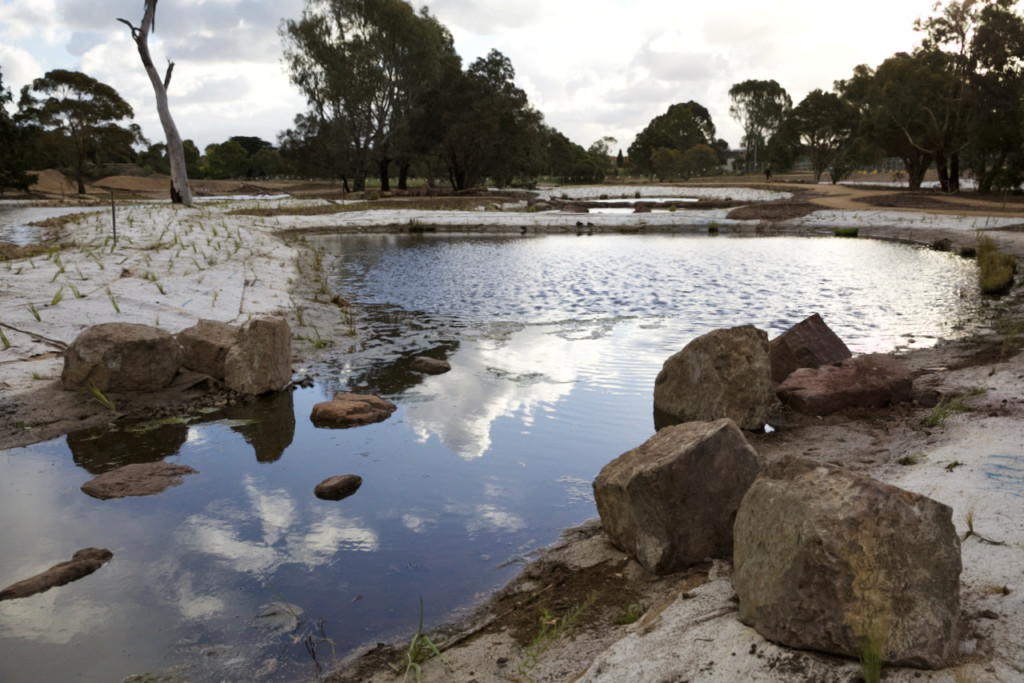 Construction of the Chain of Ponds began in January 2021 and the site has been planted, irrigated and netted. This marks the first stage of the 10 year Masterplan for the EPNR. Pumps are now keeping the water flowing through the system. The water comes from the Elster Creek and nearby stormwater. Water from the creek is treated and passes through a gross pollutant trap (reducing some waste from the Bay) before it enters the Chain of Ponds system. The water is then reticulated and is filtered each cycle. 
The Ponds include a main stream, ephemeral soaks and billabongs and extend from the northeast corner down to the centre of the reserve. The Yulendji Djeembana (roughly translated from Boonwurrung language- Community Knowledge), is a central hub located by one of the billabongs. The Ponds are lined by walkways and viewing points.
The Chain of Ponds will be open to the public in 2022.
When complete, the wetlands will improve the quality of water flowing into Port Phillip Bay and provide a tremendously healthy and biodiverse habitat, that along with new tree and vegetation will encourage native wildlife back to the area.
The epa were involved in propagating and planting many of the aquatic plants. We focussed on rarer species (often locally extinct) and plants that needed to be collected from local wetlands. We had a core group of volunteers, led by Gio Fitzpatrick, that had workers permits over lockdown. This meant  we could continue our work at the same time as the construction of the ponds. We are grateful to Bayside Council for all their support of community knowledge and skill being part of this development. And it is only fair as the community of knowledge is what has brought this vision to life. Hopefully as restrictions lift, we can involve more participation in the many activities around the development of this unique urban wetland.
For more information about wetland habitat and how to try to create it – please have a read of the Nature Notes by Gio Fitzpatrick- Glorious Mud