On a chilly Winter's afternoon, the epa hosted the Ecocentre's gathering of teachers from the Teacher's Environment Network (TEN) in the Nature Reserve.  Nearly 40 teachers, passionate about bringing the environment and hopefully the reserve into their classrooms were hosted in the epa's shed to start off the session.
Alex from the Ecocentre education team welcomed everyone and respectfully acknowledged Boonwurrung Country and Elders, in particular N'arwee't Carolyn Briggs. She then mapped out the rest of the afternoon.
I added a brief history of the reserve and talked about the role of the epa and the community in its creation and ongoing development. I mentioned the amazing potential of the place to be embedded in learning, particularly in schools that are nearby.
The session proper then started with a guided walk through the reserve with Yalukit Willam Nature Association's committee member and Naturalist Gio Fitzpatrick. Gio talked about the nest boxes and the newly finished Chain of Ponds. He shared his work introducing more mistletoe into the reserve and how this simple measure of grafting mistletoe can hugely increase the biodiversity of the reserve through its ability to foster insect life.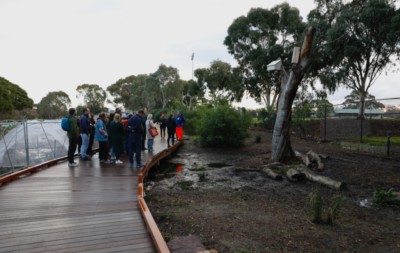 A highlight was listening to Sienna, a grade 6 student at Elwood Primary School, who has initiated a Nature Ambassadors program where students can help promote and conserve biodiversity in the Nature Reserve. Sienna approached the epa last year and since then with support from the school, her parents and the epa, she has started the program and two Nature ambassadors for each year level have been appointed. The teachers immediately felt the quiet determination and vision of Sienna's and were impressed by her example of leadership. Kids teaching kids is a powerful tool and the assembled teachers could see that everything that Sienna had generated was an educational lesson in itself. She spoke about learning how to communicate her ideas, give talks, write emails  and her growing understanding of how she can make an impact and help others do the same was very inspiring to us all.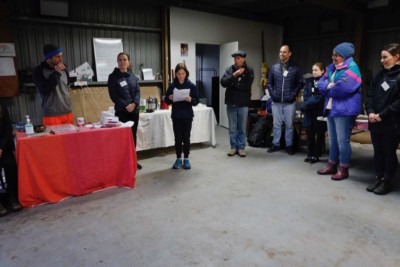 Below: a small clip of Gio giving a sample of the little Grass bird call with participants hopeful of a sighting. But "true to its character" the little bird remained elusive.
Natalie Davey epa President